The 'Report Type' filter is located at the top left of the Retail Report's landing page and contains a series of report types. This includes navigation to specific regular reports as well as more encompassing styles of content.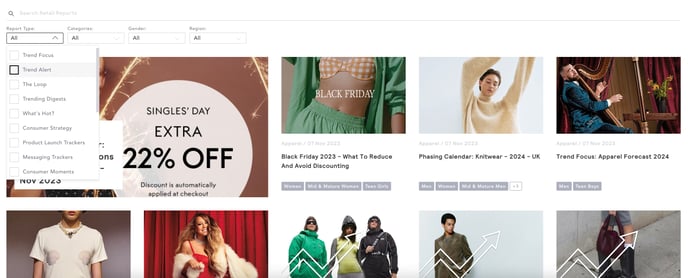 You can also narrow down reports by using the 'Category' filter. These allow you to hone in on your area of expertise, such as Denim & Fabric, Sustainability, Discounting or Accessories.
Use the search bar at the top of the page to search for specific keywords found across report types, and the 'Gender' dropdown below the search bar to filter reports by gender. You can select any number of genders that you would like to analyze by clicking on the checkboxes. If you select multiple filters, you will see all reports that apply to those specific filters.
Report Types
Periodicals
The Loop: Must-know weekly industry news.
Trending Digests: Weekly or monthly product & social media trends.
What's Hot: Monthly most hyped products & partnerships.
Product & Trend
Trend Alert: Quick responses to emerging trends, subcultures and product stories you need to know about.
Trend Focus: Data-driven analysis of emerging product trends, the impact of the runway within retail, subculture and pop culture happenings.
Consumer Strategy: Industry shifts, brand focuses and white space opportunities.
Regional Industry Reviews: Quarterly regional analysis featuring macro geographical factors.
Product Launch Trackers: Major product launches for apparel and footwear, by month.
Phasing Calendars: Arrivals, discounts and sell outs by category to help inform future phasing.
Seasonal Buyers' Guides: Must-stock items from the runway and open-to-buy products paired with EDITED Market data.
Seasonal Newness: Close-to-season emerging product trends.
Seasonal Hindsighting: Best sellers & slow movers by category & gender.
Messaging
Retailer Messaging: Analysis of existing retailer messaging and/or advice on future communications.
Messaging Trackers: Daily and weekly trackers for product launches, visual merchandising and seasonal events.
Events & Opportunities: Three months ahead, the key themes & stories for the period.
Consumer Moments: Honing in on key holidays, celebrations and major sporting events.
Consumer Moment Calendars: Dates to mark in your diary.