Similarly to the Top Words feature in Analysis, Top Words in Visual Merchandising allows users to see the words that appear most frequently in their workbook across site homepages, blogs, emails and landing pages.
To begin using the Top Words tool, create a workbook in Visual Merchandising, selecting the retailers, region, channels, and dates you wish to analyze.
Navigate to the Top Words tab at the top of your workbook.
The Top Words chart will populate with the most commonly used words across the selected updates in your workbook in order of most to least common. The bars indicate the number of times that word is mentioned out of the total number of words tracked across all updates in your workbook. You're able to see up to the 100 most common words within the analysis.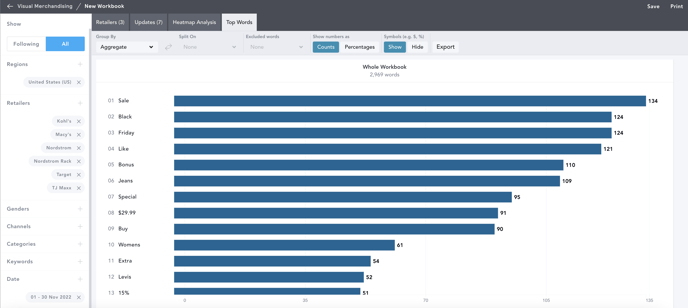 You can Group By / Split On the filters you have selected to further break out these results for comparative analysis.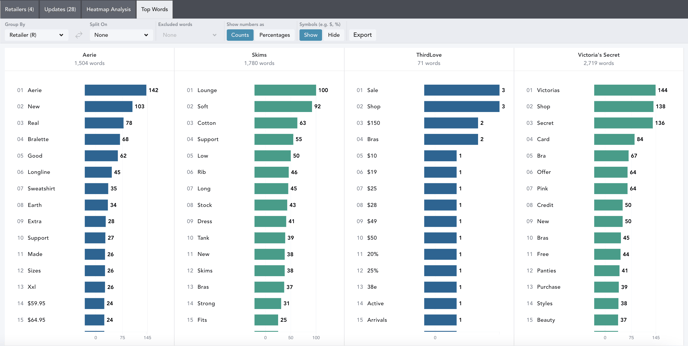 Clicking on a bar in this chart will bring up a popover display of the relevant updates containing that particular word.
Clicking on an individual update will bring up the full view with the selected word highlighted to easily identify where it appears on the page.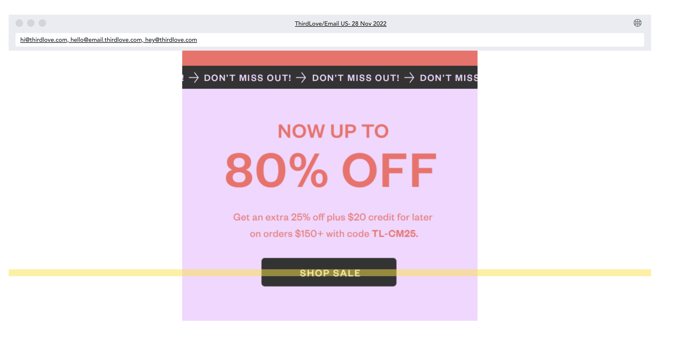 To exclude certain words from appearing within the Top Words chart, hover over the word you want to exclude and click on the X icon.
These words are then added to the Excluded words drop down list at the top of your workbook. You can re-add these words by clicking the checkmark next to them.
You can also choose to include or exclude currency, percent symbols, and numbers by toggling the Show or Hide buttons.
The Top Words chart can be exported and emailed to you in Excel format. Ensure your workbook is saved and then click 'Export' at the top of your chart controls.