What is Product Matching?
EDITED Product Matching enables you to identify exact and similar products within your workbook. The product matching technology uses machine learning to enable you to easily analyze how a specific product (e.g. black Gucci Marmont small quilted bag) or similar products (e.g. black skinny jeans) are priced across different retailers/regions.

We define an exact product match as one which matches on garment category, color, pattern, and brand but is sold at a different retailer or in a different market. A similar product match is a product that has more deviation, such as a different color, pattern, or brand.

For example, we have this Belted Striped Dress sold at Farfetch in the UK: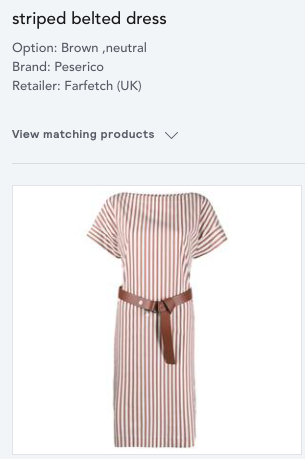 We find exact matches with other Striped Belted Dresses also sold at Farfetch but in different Markets. This allows you to analyze how this product's price is changing globally.

In comparison, we see this product has similar matches to other Belted Dresses. These have the same brand of Peserico, the same color (neutral), but a different pattern (plain vs striped). For retailers trying to put themselves in the consumer's shoes, this is helpful when analyzing what products your competitors have that are similar to your own, that may be more competitive in terms of pricing and/or discounting.

How does Product Matching technology work?
Our Product Matching technology uses advanced algorithms to take into consideration the image and text (name, description, and care & composition) associated with a product to then determine candidates for a matching product.
To optimize the quality of matches our in-house Data Scientists have focused on solutions that are universe specific, the first universe released focuses on the luxury market. Our luxury universe today stands at over 60m products covering over 650 global retailers, restricted to the last 2 years.
Finding matches in the luxury universe is available in three features in the platform; on a product page where you can view matches for the specific product you are looking at, or within Lists or the Product Matching vertical where you can look at matches for a larger selection of products.
How to view matching products within a product card
How to use advanced product matching analysis within Lists