Start by selecting 'New Folder' and naming your new folder: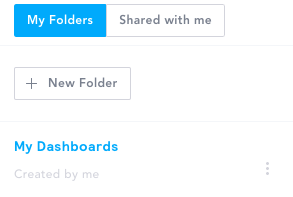 Select 'New Workbook':

You can use the filter panel to narrow down the results that you're getting in Visual Merchandising.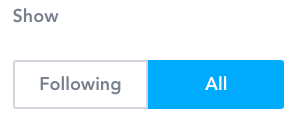 Click Following* to see information for just the brands you've chosen to follow. Click All to see information about all the brands and retailers in our catalog.
Region lets you select any number of regions that you want to see Visual Communications in. For example, in the image below, we have selected Norway, Sweden and Denmark.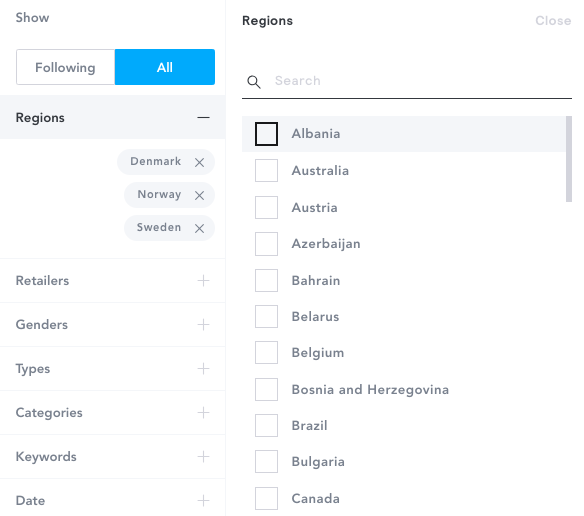 Retailer lets you select the retailer(s) that you'd like to analyze. You can also find a retailer using the search bar.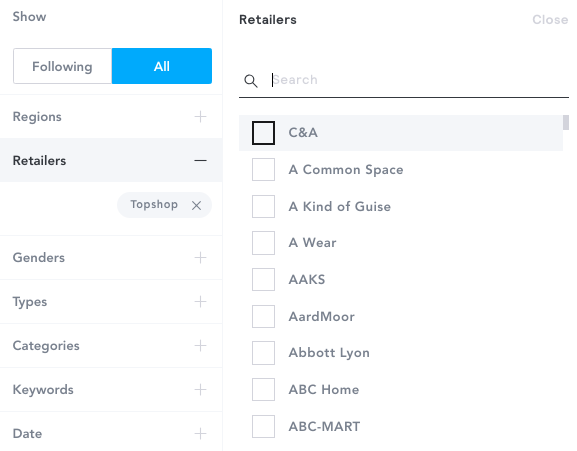 Gender lets you specify whether you'd like to see gender specific channels with content on Menswear, Womenswear or Childrenswear. Choose one or more of the options by selecting from the drop down list.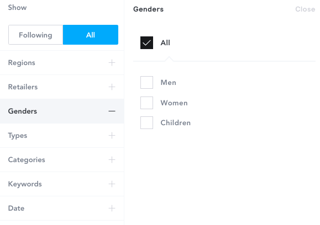 Use the Type filter to choose the Channel(s) of communication you're interested in.
Blog refers to any editorial content on a retailer site. For example, Look Books, Tumblr or Blog Posts.
Newsletter is email newsletters that are sent to customers.
Homepage is the home landing page for a brand/retailer site.
Category Landing Page is a secondary landing page like 'New In' or 'Womenswear' that you can select from the Homepage.
You can select any number of these options to make sure you're seeing the information that's relevant to you.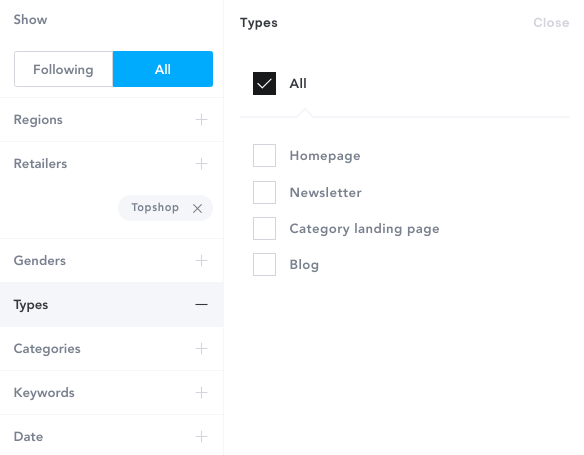 Categories lets you filter to category specific channels. In this example, we have selected Footwear and Accessories.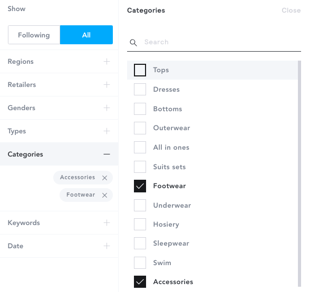 Keywords lets you search for specific words on the channels you are analyzing. You can filter by multiple keywords depending on the analysis that you are running. In this example, we have selected 'Christmas', 'Festive' and 'Santa' to to pull through as much Christmas related communications as possible.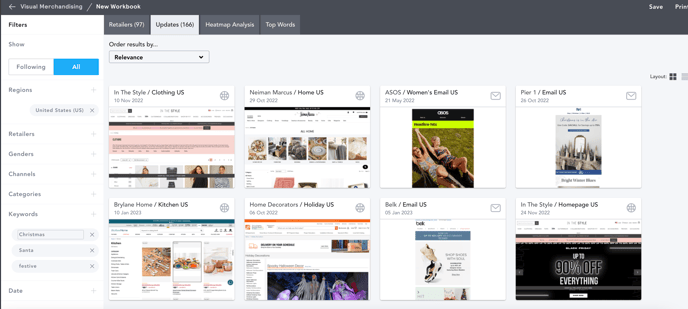 If you need to make any amendments to the keywords you've applied, you can do so by simply clicking the keyword, then make any changes needed:

Use advanced keyword searching to take your analyses further. For example, you can search for communications within Christmas/Festive/Santa that also mention "50%" to understand who is in promotion during this period by entering the keyword: 50% AND (Christmas OR festive OR Santa)
For more detailed information and tips on how to perform advanced keyword searches, please see the article: How do I use keywords to filter for products?
Date Range allows you to select the time frame that you're interested in for your analysis. You can select one of the options or define your own time frame by clicking the Date Range option at the bottom of the list. You can use any combination of the above filters to narrow down your search results to just the information that is relevant to you.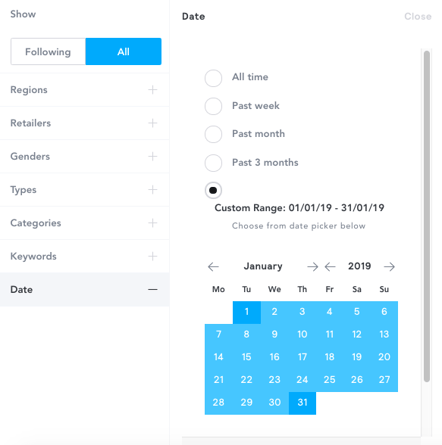 You can remove filters at any point in your analysis by unchecking a box you have previously selected, or select 'all' within each filter to go back to seeing everything.
Once you have applied your filters, select save in the top right-hand corner to save your workbook and return to it later.