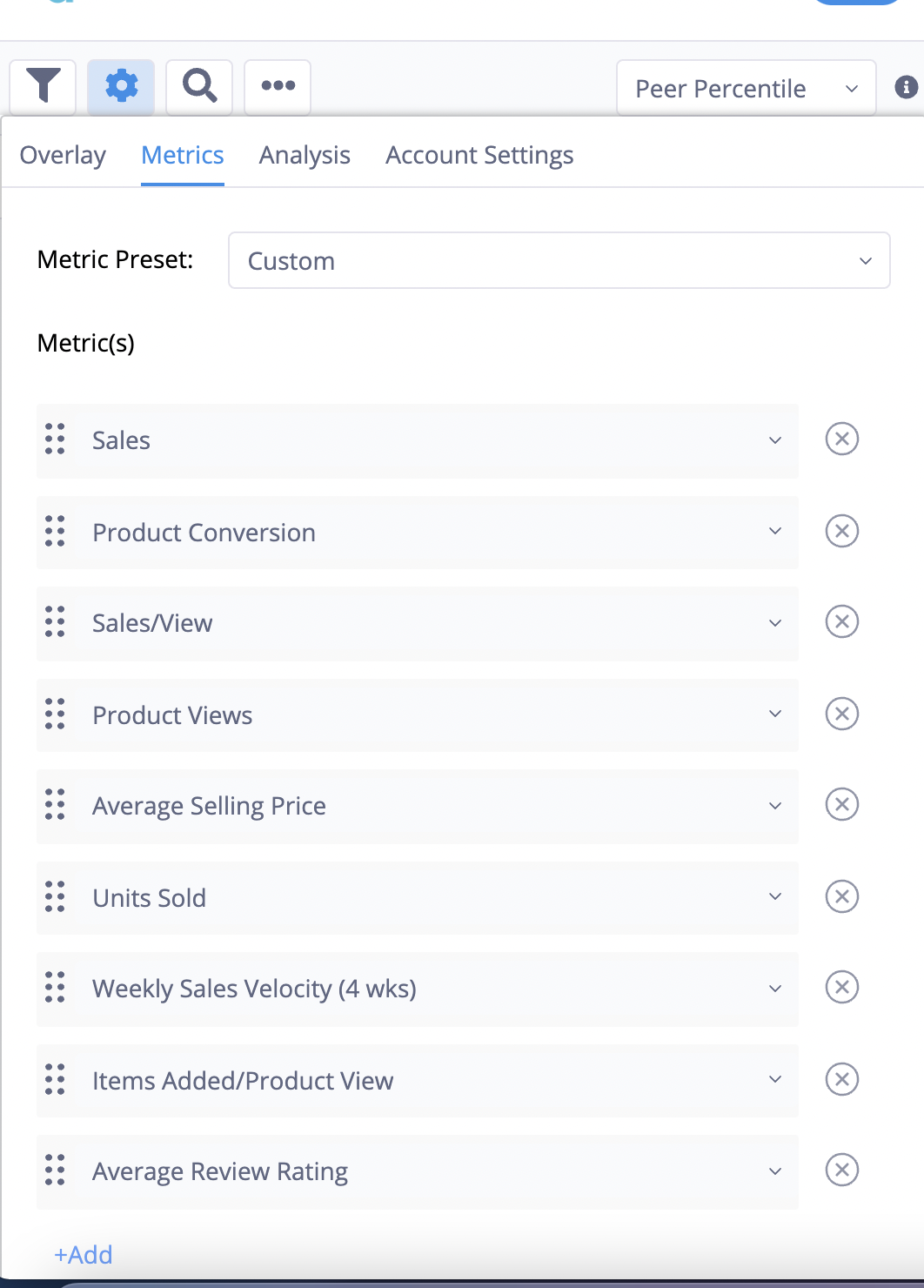 The Metrics configuration tab provides access to DynamicView's list of 200+ supported metrics that can be custom curated by each individual user for display in the sidebar when analyzing a specific product. By clicking the cog icon and loading the Metrics tab, you will be able to add, remove and reorder the metrics to be displayed. Similar to the Overlay configuration interface, click the +Add button to display additional metrics in the sidebar, use the drag handle to reorder metrics, click the x button to delete a metric, and use the search feature to locate and switch out any currently selected metric. Once you have selected the metrics you wish to include, click the Apply button, or click Cancel to exit the configuration dialog without saving any changes you have made.
Metrics Preset:
Preconfigured metric groups are also included in the Metrics section of the DynamicView configuration tab. If you wish to modify a Metric Preset, simply edit the individual metric selections a usual. However, please note that the Metric Presets themselves cannot be modified. If you manually edit the selections after loading a preset configuration in the Metrics dialog, the preset option will update and display 'Custom'. The most recent custom preset configuration is cached while you are working in the Metrics tab. If you load a preset and want to revert back to your most recent custom configuration, you can select the 'Custom' option from the menu.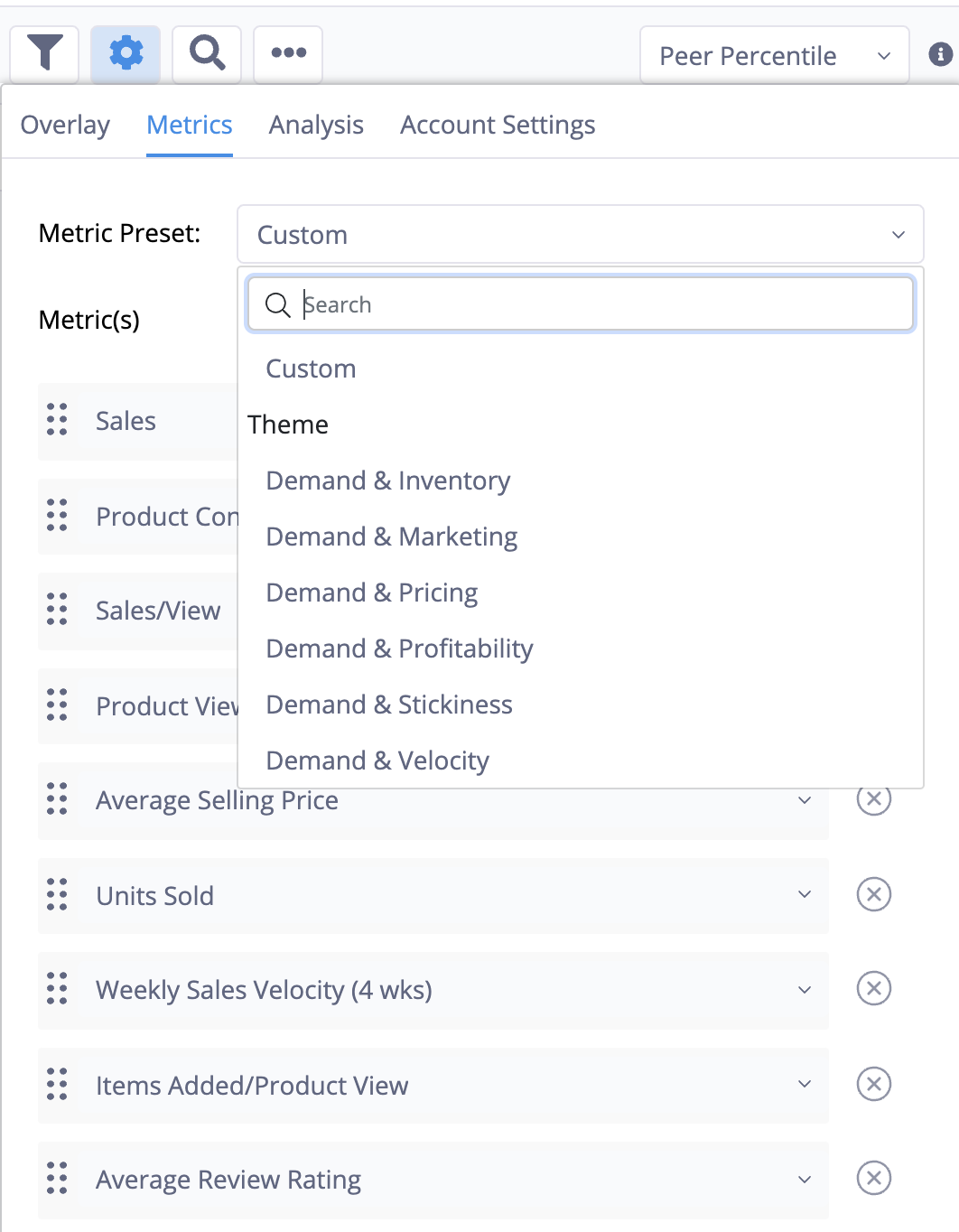 Six theme-based metric configurations have been curated. Each preset contains the same first four metrics and are focused on product demand. The last six metrics relate to secondary topics like Inventory, Velocity, Pricing, etc. Just like the Overlay Metrics presets, Product Metric presets can be quickly changed and still support the 'Custom' option articulated previously.
All Product Metric preset configurations are provided in the table below:
METRIC OVERLAY PRESET NAME

Demand & Inventory

Demand & Marketing

Demand & Pricing

Demand & Profitability

Demand & Stickiness

Demand & Velocity

Metric 1

Placed Order Value

Placed Order Value

Placed Order Value

Placed Order Value

Placed Order Value

Placed Order Value

Metric 2

Product Conversion

Product Conversion

Product Conversion

Product Conversion

Product Conversion

Product Conversion

Metric 3

Placed Order Value/View

Placed Order Value/View

Placed Order Value/View

Placed Order Value/View

Placed Order Value/View

Placed Order Value/View

Metric 4

Product Views

Product Views

Product Views

Product Views

Product Views

Product Views

Metric 5

Units Sold

PPC Product Views

Average Margin %

Product Profit/View

Units Sold

Average Selling Price

Metric 6

Inventory Value

Email Product Views

Average Selling Price

Product Views

Bounce Rate

Units Sold

Metric 7

Stock Units

Affiliate Product Views

Price Markdown %

Product Profit %

Exit Rate

Weekly Sales Velocity (4wks)

Metric 8

Stock Cover (4 wks)

Display Product Views

Promo Cost %

SKU Availability

Items Added/Product View

Items Added to Cart

Metric 9

SKU Availability

CSE Product Views

Stock Units

Stock Cover (4 wks)

Abandonment Rate

Items Added/Product View

Metric 10

Return Rate (4 wks)

Social Product Views

Stock Cover (4 wks)

Return Rate (4 wks)

Review Rating

Abandonment Rate