To view Patterns, click Analysis and select Patterns: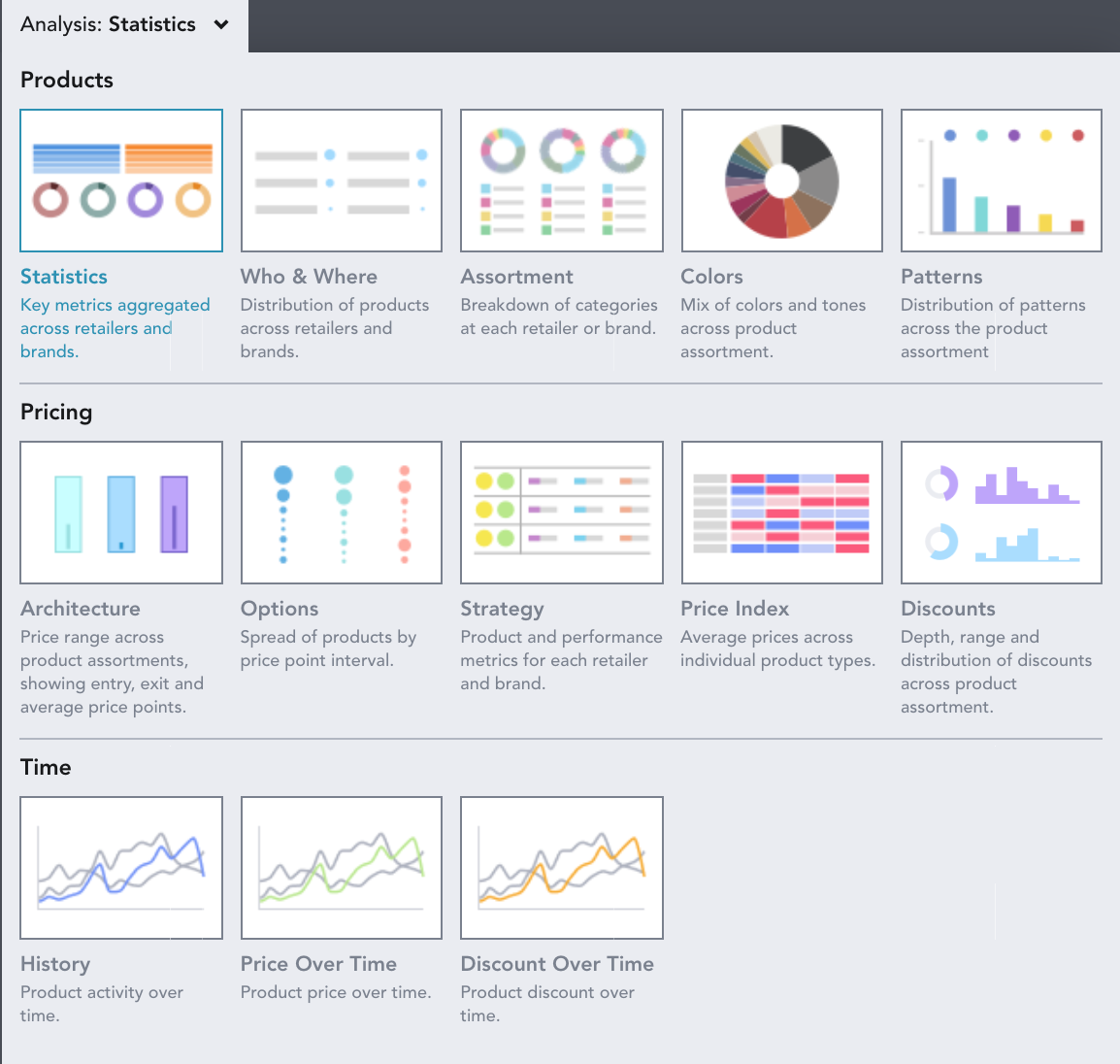 Patterns shows the assortment of pattern as per the products in your workbook.
EDITED identifies the pattern in a product through a combination of image analysis and the words used in the name a product description. Products can be 'Plain' or one of the following Patterns -
Stripes - Parallel bands
Spots - Uniform round shapes that repeat
Checks - All checked/gridded patterns including houndstooth, tartan and gingham
Floral - Prints that have flowers, including tropical but excluding lace
Animal - All things made to look like animal skin (tiger, leopard, zebra etc).
Camouflage - Irregularly shaped patches inspired by military camouflage print
Conversational - A repetitive object print (i.e. cats, pineapples, flags, etc.)
Lace - The actual fabric of lace or a print resembling lace
Aztec - Tribal or fairisle type patterns
Geometric - Hard defined shapes
Abstract - Nonobjective forms and layouts
Tile - Repeated grid
Graphic - Logos, images or text, normally placement printed on the front centre of the garment
Paisley - An intricate teardrop shaped motif


The image below is looking at the split of different patterns at some UK retailers: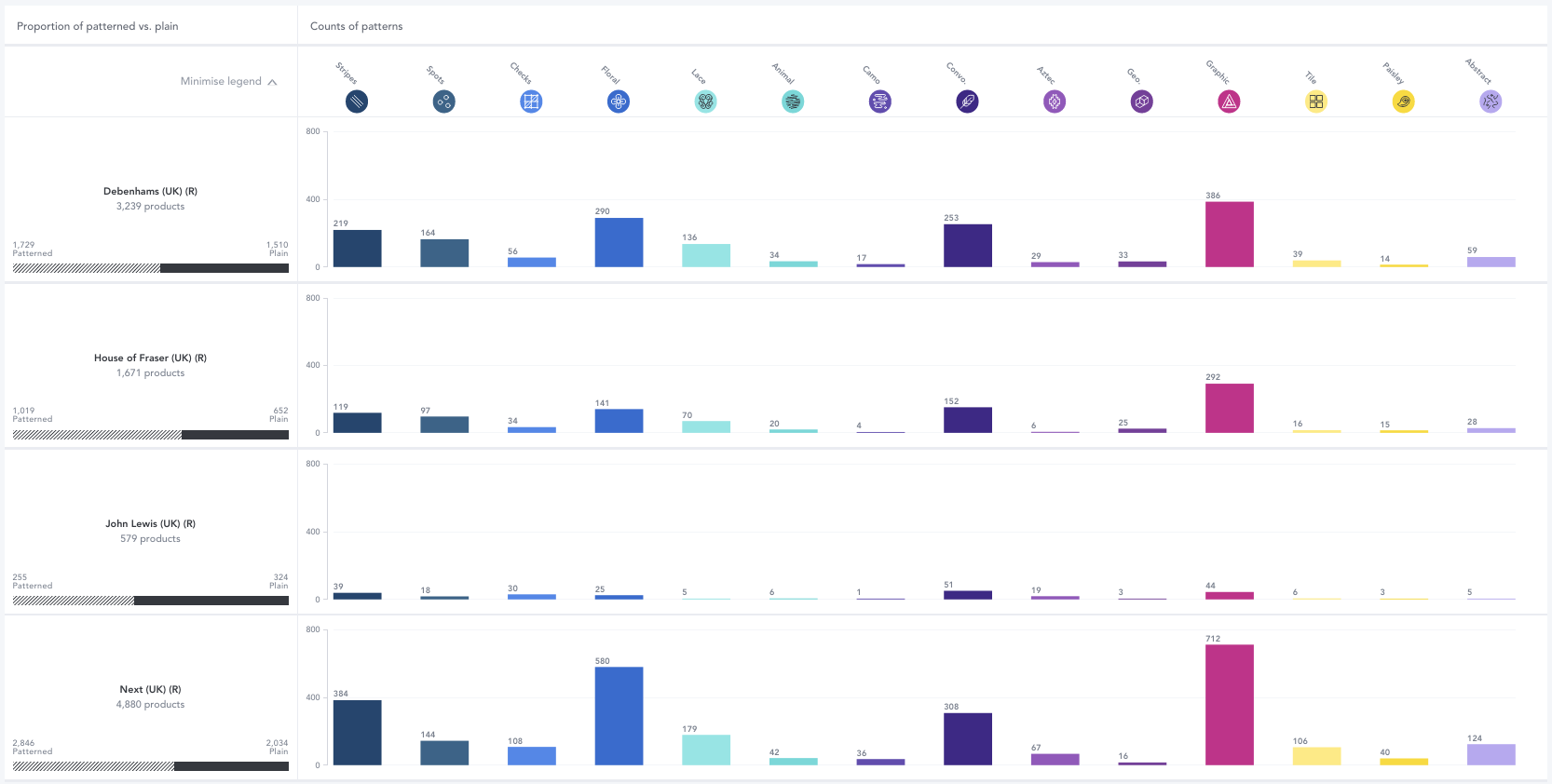 Click on any bar in the chart to see a popover of the products with that pattern.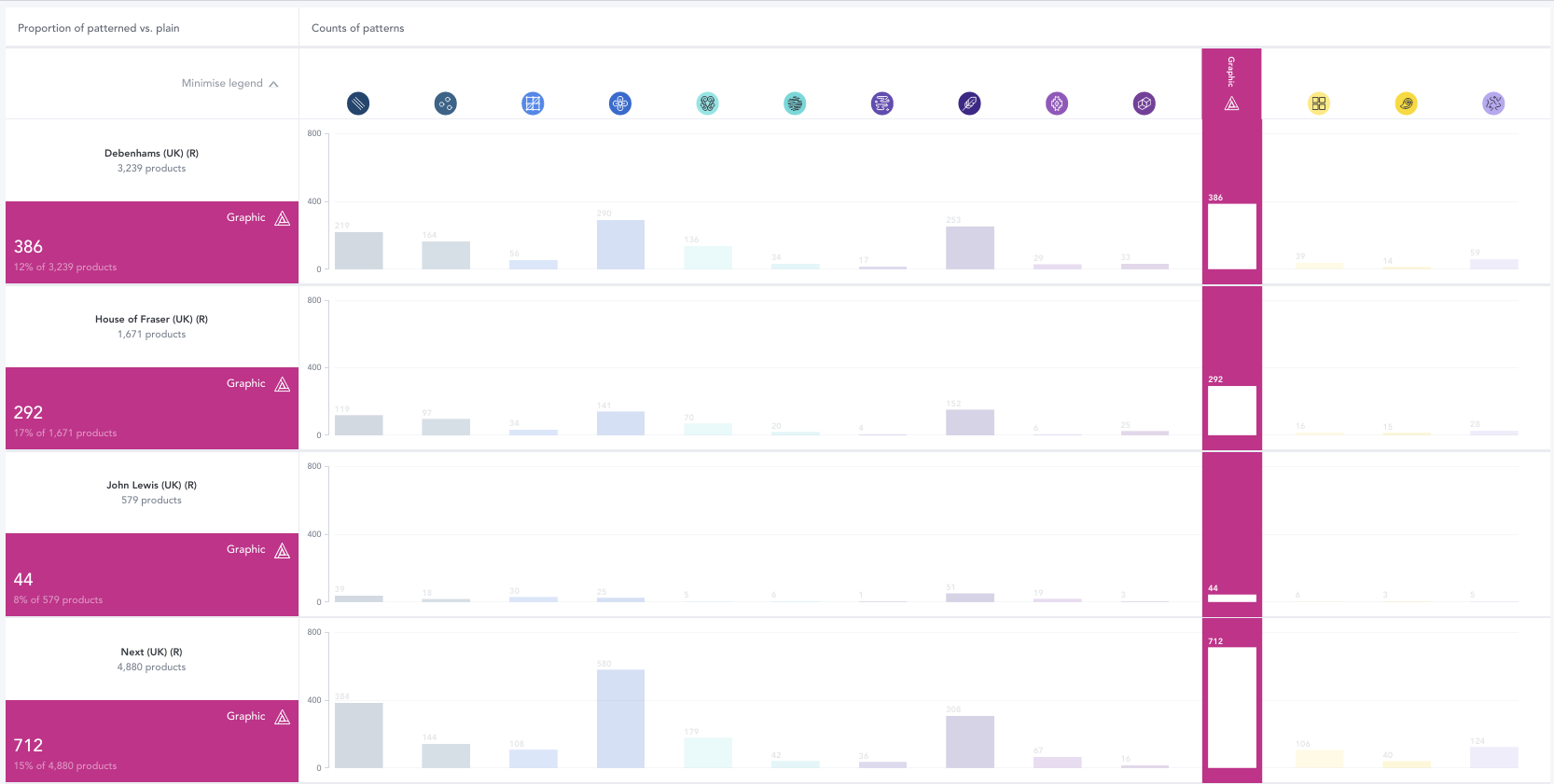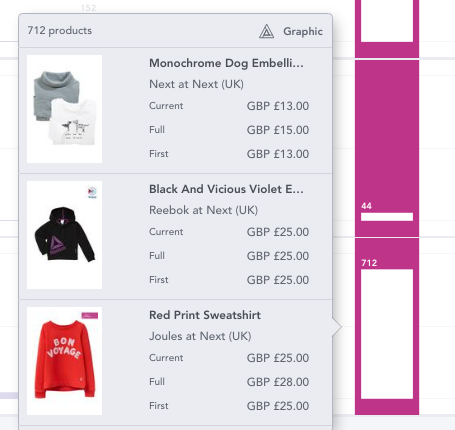 You can view this as an aggregate or split it out further using EDITED's Chart Controls.
Use the 'Group by' drop down to change the view:
Aggregate: see all the products in your workbook represented
Region: see price index per region selected in your workbook
Segment: see price index per market segment selected in your workbook
Retailer (R): see price index per retailer selected in your workbook
Brand (B): see price index grouped by the brands selected in your workbook
Gender: see price index per gender selected in your workbook
Category: see price index per category selected in your workbook
Product Details: see price index per product detail selected in your workbook
Keywords: see price index per keyword grouping in your workbook
Flash Sales: see price index per flash sale selected in your workbook
You can then use the 'Split on' drop down to get an even deeper understanding.
IMPORTANT NOTE - Our pattern analysis is currently active for Apparel categories so does not include Footwear and Jewellery.