To view Assortment click Analysis and select Assortment: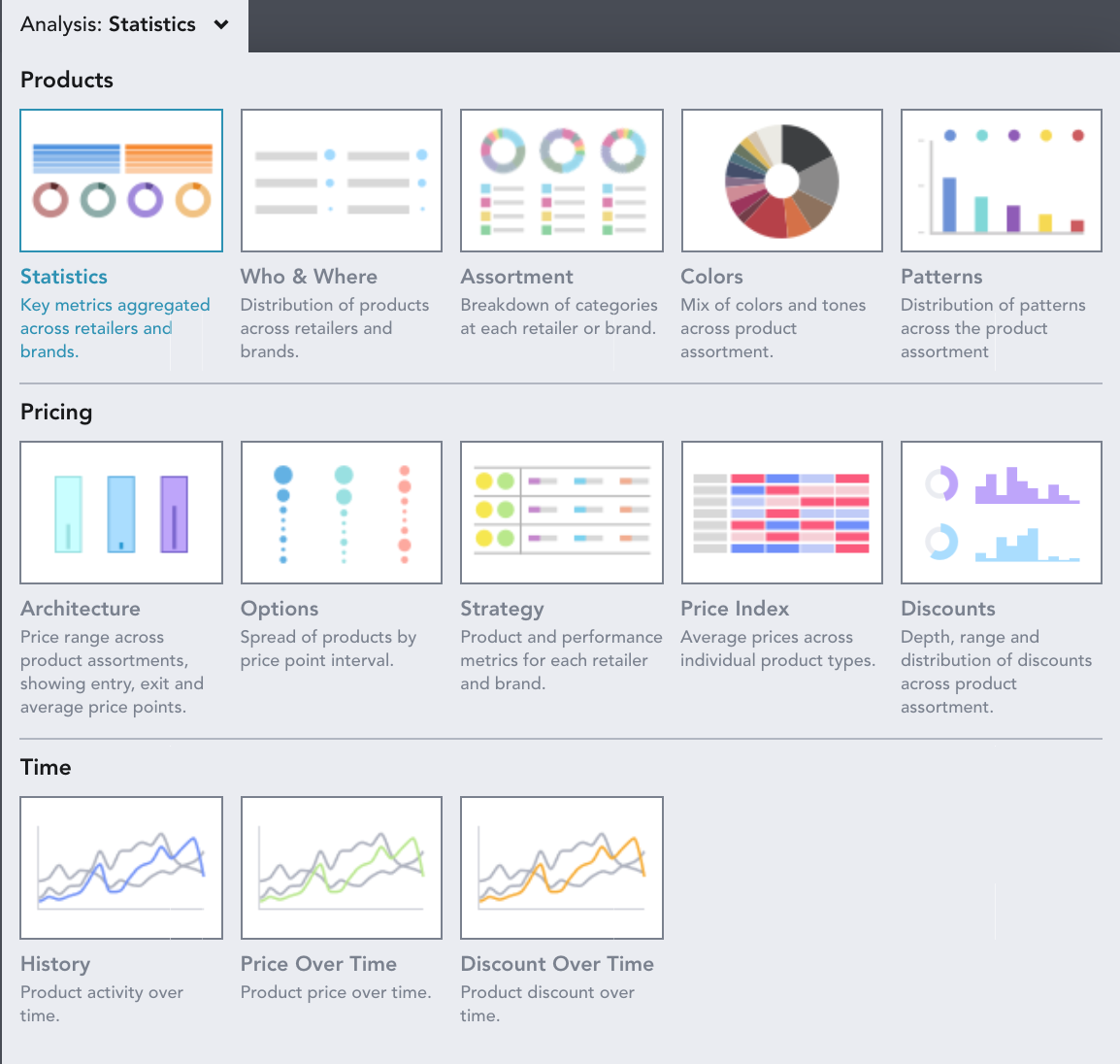 Assortment shows the breakdown of product categories by Aggregate, or per Retailer or Brand.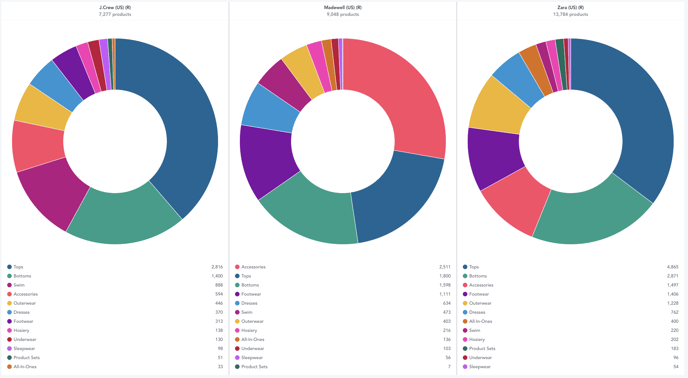 Using the button at the top select whether you want to view the analysis as Charts or in a Table.
Chart View
Once you've selected to view the data as Charts you can use the other buttons at the top to change how the data is presented:
Group By allows you to choose how the charts are grouped. Choose by Aggregate, Retailer (R) or Brand (B). Below we've grouped by retailer. Each chart will represent one Retailer (R) or Brand (B) according to what you've selected. If you select Aggregate it will show one chart for your whole workbook.
Show numbers by allows you to see the products by count or by percentage. The percentage will be as a proportion of each individual chart. Here we've shown the numbers by counts.
If you haven't applied any product category filters you'll see all of the product category groups represented on the charts, as in the example above.
Charts will only display category groups, so when applying filters for individual product categories these will be shown underneath the charts, as for the various Tops product categories below. The product categories are ordered by number of products, while the product category groups will always be ordered in the same way, reflecting the Categories filter.
Hover over any of the product categories to highlight it across your charts (below we've hovered over tank tops, and you can see this highlighted in dark blue underneath each chart).
Note that when viewing percentages these may add up to more than 100% for certain product categories. This is because some products can belong to more than one product subcategory. We are continuing to update our subcategories methodology to ensure all product subcategories are mutually exclusive from one another. e.g. a Floral Bodycon Dress belongs only to the Dresses category group, but may be included in both the Dresses > Floral and Dresses > Bodycon product categories.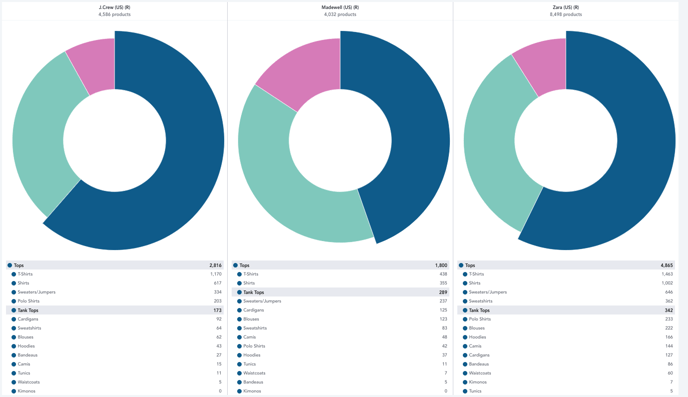 Table View
Once you've selected to view the data in a table you have further options to change how the data is presented:
Use the ' Group By' and 'Split On' drop downs to see your data by-


Aggregate: see all the products in your workbook represented
Region: see the data by each region selected in your workbook
Segment: see the data per market segment selected in your workbook
Retailer (R): see the data per retailer selected in your workbook
Brand (B): see the data grouped by the brands selected in your workbook
Gender: see the data per gender selected in your workbook
Category: see the data per category selected in your workbook
Product Details: see the data per product detail selected in your workbook
Keywords: see the data per keyword grouping in your workbook
Patterns: see the data per pattern selected in your workbook

Show numbers as allows you to see products by counts or by percentages, below we've selected to see Counts.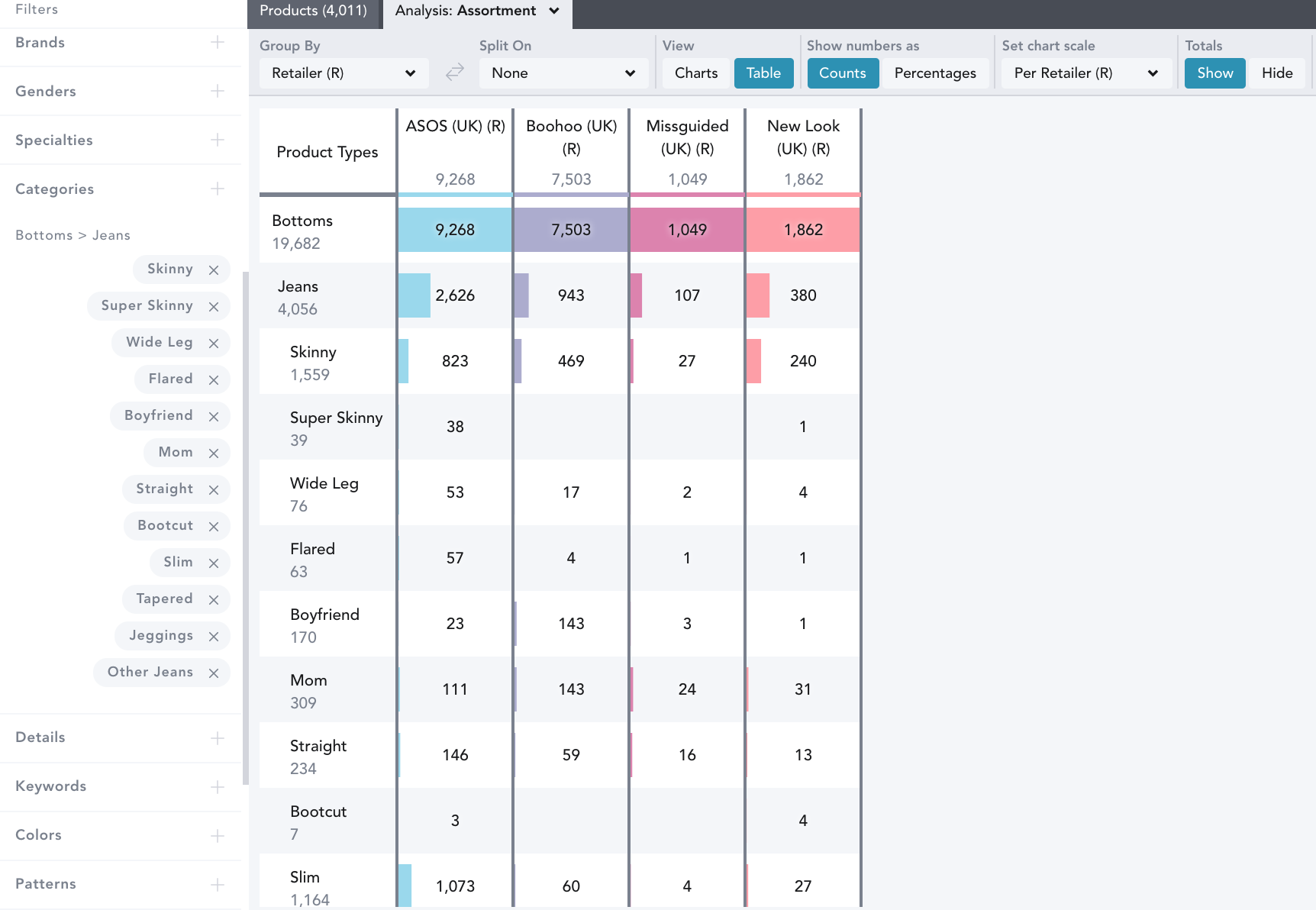 Set scale allows you to change how the bars are scaled. Choose to see this across the full workbook, per Brand, per Retailers, by Product Type or by Product Type, per Brand. Below we've chosen to scale by Product Type. Hover over any bar for an explanation e.g.




As for Charts if you have not applied any product category filters then you'll see all of the product category groups represented, as in the examples above.
However, unlike Chart view, the Table view does show a visual representation of product categories as well as product groups. Click on any of the bars to drill down and see the products.
The raw Assortment chart data can be exported and emailed to you in Excel format. Ensure your workbook is saved and then click 'Export' at the top of your chart controls.